You deserve the comfort and style of a new interior designed just for you.

We at CAI have been setting the standard for Custom Aircraft Interior Refurbishment for years. At CAI you can choose your own custom design for your interior, we believe that no person is the same therefore standards range from person to person. We only use the Finest Leathers, Fabrics, Carpets, and offer you the highest quality of craftsmanship all at fair and reasonable prices.

We ask that you look through the site and see what we have to offer you, You can request a bid through our website or you can contact us directly (see contact us) as always if you have any comments or questions don't hesitate to call our office or drop us an e-mail.
Our Company
With over 30 years of experience working with the most highly qualified airplanes in the United Sates, CAI is one of the leading companies in Aircraft Interior Refurbishment. From the beginning we work with you to discuss the entire process of refurbishing your aircraft's interior. We'll help you choose from the finest leathers, fabrics, and carpets creating a unique look for your aircraft. You have a tremendous investment in your aircraft, It's critical that you are convinced that the work done to your aircraft is to the highest standards, that's why we at CAI are committed in assuring you the finest quality of craftsmanship.

We are specialized, but not limited to:

Seats
Side Panels Carpet Headliner Window covers Seat belt webbing Carpet runners Soundproofing Glare Shield Luggage Compartment Cabinets Leather wrapped Yokes Curtains
All available in a wide color variety, textures, and designs to suit your aircraft style.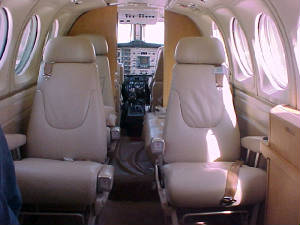 Click on our service page for an

overview of the services we provide.

To request a bid you can do so by filling

out a bid form or calling us directly to our office.

(909) 393-5814.


ESTABLISHED in 1995