Service Overview
Chino Aircraft Interiors will provide you with documentation
for all components that go into our completion.
such as Fire blocking burn test certifications for
all materials used in refurbishing your aircraft, 8110 or 337 forms when applicable,
and log book entries. We only use products that
will comply with all FAA Federal Aviation Regulations
no exceptions.
Complete Interior Refurbishment:

Seats

Seat belt webbing

Side Panels

Window Panels

Headliner
Partial Interior Refurbishment:

Seats

Side Panels

Headliner

Carpet

Additional Services:

Carpet Runners

Sound Proofing

Glare Shield

Luggage Compartment

Wood Work

Curtains

Cabinetry

Leather Wrapped Yokes

Interior Plastic Kits

Chino Airport is a complete aircraft restoration site, we can schedule routine maintenance and /or exterior painting all at the same time to minimize your down time.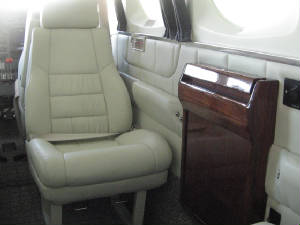 From a simple carpet in your single engine aircraft, to a complete refurbishing of your corporate aircraft, Chino Aircraft Interiors can meet your needs.